Ah yes, it has been awhile since I have had much to say. The reason behind that is four-fold.
First, hubby got a new laptop at work. This is great because the old one isn't very good. CD burner doesn't work, the computer must be plugged in at all times to work at all, slow processing, etc and so forth. So, he gets a new one. I am hoping that I will be granted the old, crappy one. But I had to plead my case with the powers that be and it took a few days. I am now up and running with the crappy laptop. Hurray!
Secondly, in spite of my only working a part-time job right now, I have been crazy busy. We are getting ready to start the summer curriculum at church for the kids so I am going through music to fit everything, learning the story as I am also helping with the teaching, and I had two music rehearsals yesterday. Not to mention all the sewing I have been doing for work. I am almost done making huge theatre curtains for our kids' room that is decorating (quite obviously) like a theatre. They look great and make such a difference in the room atmosphere. Anyway, all that to say, I'm busy! :)
Thirdly...ok, I only had two reasons.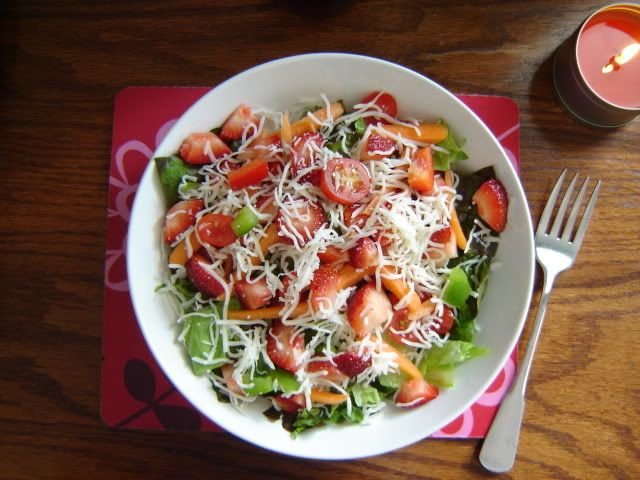 And finally I leave you with a challenge. I am having a stellar salad for lunch today. Very fresh, very tasty indeed. Whoever can correctly name every item pictured in my salad will win a fabulous prize. Fabulous.