Ah yes. There is nothing better than a vacation. Even if it is only a few days long. But I suppose I should begin at the beginning. Or at least at last week.Friday I had a very long day. Only a half work day at my "real" job and then off to the church to set up and get ready for our evening event. My band rocks. They really do. The event was a thank-you dinner for all of our children's ministry volunteers. Food was amazing and the band played a few songs during dinner and as I said before—they rock. I am always amazed by how much I love performing with them. Kids…who knew?
Saturday I had a girlfriend call me at 9 so I would get out of bed. I know, it's really sad, but that's the only way I will get my butt up on a Saturday! Anyway, we got up, had a very lovely eggs & hash brown
s breakfast, and I went out to the gardens. So much work to be done. I did tons of planting, raking, seeding, rearranging and even a good bit of cleaning and organizing. Hubby even helped with the man-type work. He is so sweet…I didn't even ask him to help; he just started digging in! Hauling bags of dirt, cleaning up winter debris, etc.
I also had to fix a huge hole in our backyard fence that the neighbor's dog kept trying to come through. Our fence is rather old and the crazy dog was doing a pretty good job working his way under it. And of course, he thought we were in his yard so he kept barking at us. So I built a little patch and the neighbors even gave me a couple pieces of their good, sturdy boards to use that they had and it is all better now. No more erosion into the neighbor's yard!
I got a ton done throughout the whole day and also got my first sunburn of the year! Yay! I love getting a sunburn in April. Of course, I'm horribly itchy now, but that's how it goes…
Sunday was a regular morning; good times with the kids. After services, we grabbed some Arby's, bought some paint and ran home to pack for our trip. I also had to clean a bit as I am obsessive about having the house clean before we go away anywhere. Stopped at the grocery store on the way out to stock up our fridge and we were on our way to a mini-break!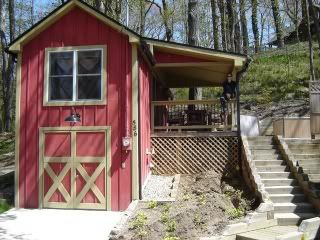 Saugatuck. I had never been there so in spite of it only being about a half-hour away, I was very glad to be going somewhere fun and new. We rented a teeny, tiny little cottage and it was just perfect. Basically just a little studio that looked a bit like a garage.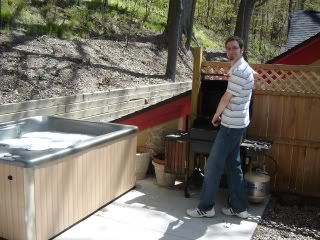 But only on the outside. It was so cute inside. Well-decorated and it had everything we needed, including a full kitchen, grill and a hot tub!
We spent three days and nights watching movies, doing a puzzle, playing GameCube, eating, shopping and simply relaxing. No need to go anywhere or do anything in particular. Staying up late and sleeping in as long as we wanted.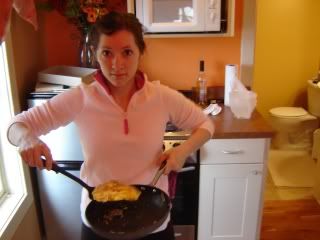 I cooked French Toast every morning and we only ate out a couple times. Steaks with mac & cheese; Salmon w/ rice (of course...)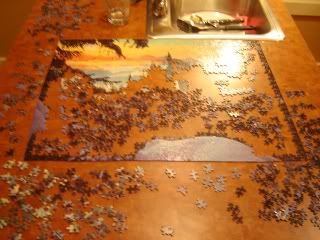 See: a puzzle. We didn't finish it. But we did most of it. We finished the castle...and most of the trees. Ok, so we're quitters. But Zelda & Alias were calling.
This is the Funky Lama. A great rose' wine we found with a silly name. We may have to buy a whole case of it, it was so good. And who doesn't like to say, "Please pass the funky lama"? We strangely kept seeing lamas everywhere the whole trip too. There was a sculpture in the park, and one of the stores we wandered through had little lama beads. It made us feel very funky. And lama-ish.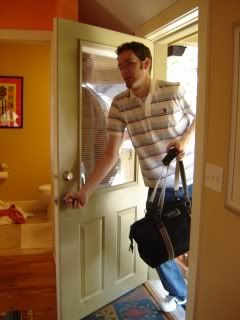 This is Andy before our vacation. See how whipped and in need of relaxation he is?
Here he is after we arrived. Refreshed, and revived. And a little bit lazy. Ahhh...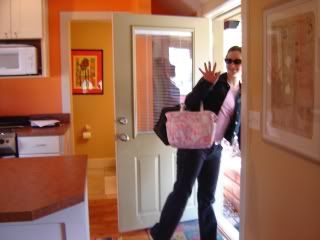 I think we should have stayed away longer. But we did miss our kitties. And all good things must come to an end...right?
Plus, we were excited to see what our bedroom makeover looked like. While we were gone, our bedroom got painted. Nothing overly exciting, I guess—just a nice grey—but we also had new bedside cabinets to put up (that I built/put together) as well as new lights and little things like that. Just making it feel finished and cozier. It is now a very relaxing room. I also got blocks to raise the bed up for more storage underneath so it feels cleaner and a little bigger with less clutter. Plus, it's high enough now that hubby can't touch the floor when he sits on it! HA!
Before: Just one lamp & one little table.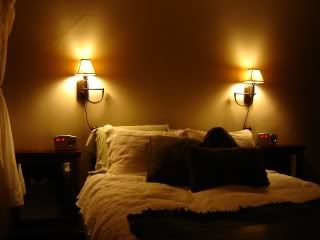 After: lamp and cabinet on each side. Pictures still need to go up…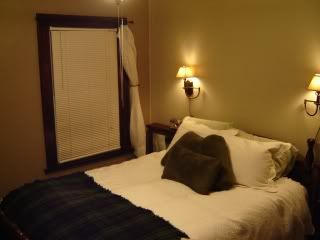 Fortunately, I only have two days of work this week. I don't think I could handle more. It's actually quite busy here too, so the days should fly by. Though I really have a lot of catching up to do on my blog-roll…so it may be difficult. Bear with me.
Saturday I get to do more gardening. And I have tons of laundry to do, sewing to catch up on and several little organizational things to be done.
Busy days. But good days. What have you all been up to? I have missed chatting with you and hearing your stories. So regale me with your words of beautiful times and your lovely lives.
Now I must work. Work my little fingers to the bone. Or type my little fingers to the bone at least.
Love to you all. Thanks for missing me.