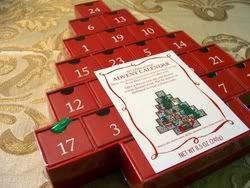 I think I just ate the best truffle in the world.
We have an advent calendar from Starbucks that has 24 little drawers in it and in each little drawer is a brightly wrapped truffle. Plus, I just went to a Christmas dinner on Monday night that had truffles and I brought home about four more of them. I have had a truffle every day this week.

The exquisite truffle that I just consumed had a delicate white chocolate shell outside with soft chocolate filling and tiny crisped rice pieces inside. Oh...it just melted deliciously in my mouth.
Yum, Yum, Yummy. Happy Holidays to my mouth.