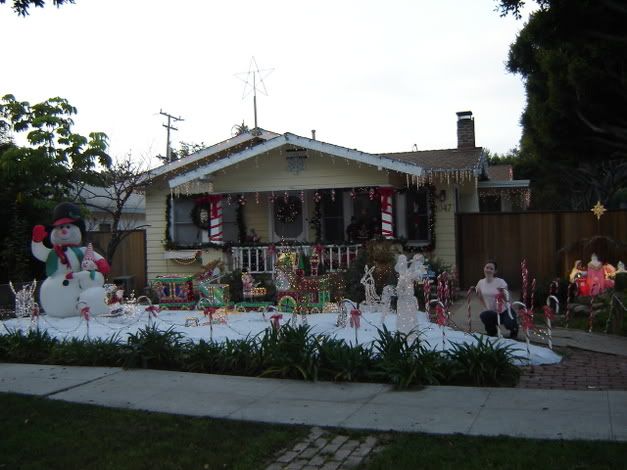 Ok, so I think that regardless of where you live in the country, when your Christmas lights are still up on January 14th, you need to take a serious look at your priorities.
But when you live in California, and have resorted to putting several blankets of fake snow on the ground, plastic icicles on your roof, a huge blow-up Frosty Family, and your decorations are all still up in the middle of January, then you really have a problem! I like Christmas lights and accessories as much or maybe even more than the next girl, but this house was hysterical! We just had to jump out to take a picture.
If you click on it, you can see it full-size and appreciate fully the lengths these people went to bring Santa to Santa Monica!
The worst were the houses that had the blow-up snow globes. I apologize to you in advance if you have one and you love it and you put it in front of your house. Please don't hate me. But man oh man, they are sooo tacky! Not only do these people have fake snow. But they keep their fake snow continuously blowing around in a bubble. If you really want snow that badly, move north. If you live north, just stand outside for a couple minutes. Yay! Snow!
This is more my style of decorating for Christmas. Classy and toned down. But still cheery and festive.
Ahhh. That feels better. Now I feel like some of that mulled wine. Hmmm...that wouldn't be against company policy, would it?