We had arrived in California late Thursday night. Well, it was quite late for us, but only about 9:30 their time. Our flight was rather uneventful and easy, but apparently now NW airlines does not serve snacks. No snacks for a 5 1/2 hour flight?! We had to BUY a little box of trial size snacks. Ridiculous.
Anyway, when we got there we were very hungry so after driving around Pasadena a bit and getting the unofficial evening tour. We ordered pizza, which we almost fell asleep into, and crashed onto our lovely air mattress. Quite comfortable, actually.
(Since I'm on the topic of pizza, I need some help. My favorite pizza toppings are pineapple and sausage. I have been told numerous times that this is disgusting. Really? Because it's not that different from the typical "Hawaiian" with ham and pineapple. And I'm not that big a fan of the texture of ham on my pizza. So I need a bit of confirmation that someone else out there can testify that they also would enjoy a sausage and pineapple pizza. Can I get a witness?)
So, Friday. We didn't sleep in too late, but got plenty of rest, nonetheless. We were on vacation! Sat around for a good bit. Drank coffee. Ate cereal. Luke quite by accident got my favorite: Special K w/ Strawberries! Mmm.
We finally got showered and around and left to go to the beach at Santa Monica. It wasn't really all that warm, so we brought light jackets and shoes in case our toes in our flip flops got chilly.
Which of course they did. But I still wore my flip flops, gosh darn it!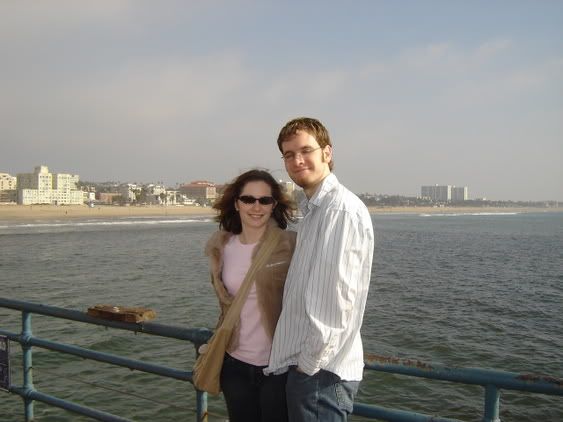 We wandered along the boardwalk and got some good pictures of us by the water. And them.
We kind of look like we're on a boat.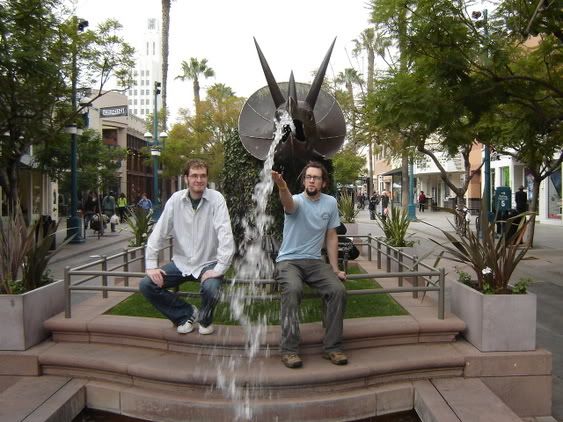 But we're not. And it was a beautiful day in spite of the temperature.
We shopped along several lovely streets in Santa Monica. I believe we were on Third street most of the time. It's one of those streets that you can't drive on, but there are tons of sweet stores. Bought some fun panties at Urban Outfitters and gaucho pants--for $2!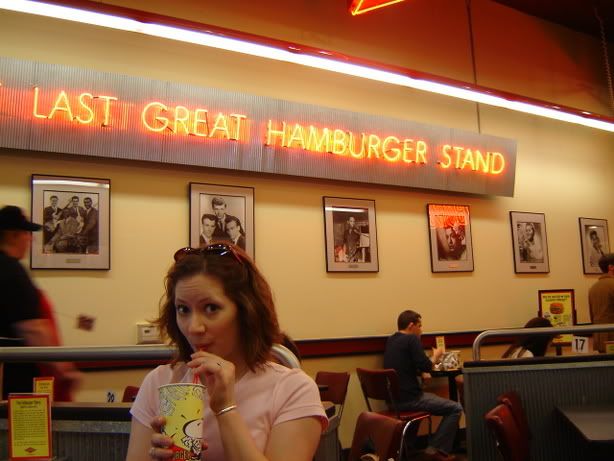 Then we had a big ol' lunch at Fatburgers. Best burgers ever! And fat fries! Very tasty. With fresh lemonade. And a juke box and everything.
Apparently this was the last great hamburger stand. Ever. Who knew?
After lunch we wandered a bit more, watched a huge crane lift a new ginormous air conditioning unit onto the roof off a building and then got some stellar chocolate gelato.
It then took us an hour to drive around Santa Monica to try to figure out where to drive to watch the sunset. During which we missed the sunset. Oh well.
Off we went to Hollywood. The city of the stars! Or at least the streets of the stars. Yes, that is the very handprint of Johnny Depp. Yes it is. Sigh. :)
One of the theatres along the strip was showing Narnia and even had "snow" falling all around the theatre outside. If tickets hadn't been $13, we would have gone in. They had a whole huge setup around the stage and everything.
After much sight-seeing, we tried to see/find the Hollywood sign, but to no avail. It's there though. I'm sure of it!
A good Friday. And even though it was the 13th...no fears. Well, there was this weird guy outside the Chinese Theatre dressed up like a horror movie character. He freaked me out a little. And the guy dressed up as Elvis. He was a bit scary too.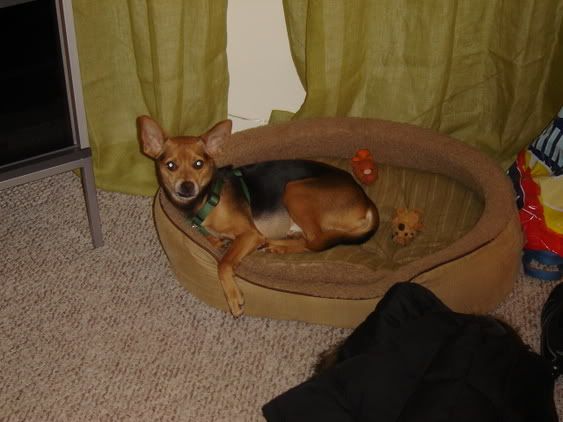 When we got back to the M apartment, we discovered their dog Wesco had gone nutso during the day while we were gone. He had been punished by Luke's brother who lives with them and Wesco was in his cage. The carpet by the door and the strip along the bottom was all torn up. Stay tuned for more adventures from him at his new
blog
. He is very naughty. Sure, he looks innocent. But don't be fooled for a moment!
We had picked up some very yummy Thai food which we ate voraciously while watching
Envy
. Very funny movie. Definitely worth renting for a good laugh!
Ok. Saturday is coming up next!