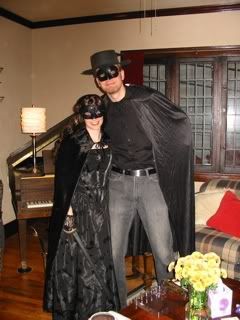 I present to you...the Zorro's!
Ok, so recently we had Halloween, right? And myself and my husband have not dressed up together for this holiday for some time. (the last time he dressed up he went as Elvis)
Last year I had a girls-only party complete with apple bobbing, haunted house, costume contest, caramel apples and the watching of "Young Frakenstein" and "The Blob." (which is a very ridiculous movie involving a large amount of raspberry jelly attacking a small, unsuspecting town)
This year, we did not have a party, but instead hung out together in our (rather goth) costumes and handed out candy. Tons of kids!
We lit tealights out on our front lawn in the shape of a huge Z. Zorro was in town!
My husband is already 6' 6" tall and with his Zorro hat, he was a good bit taller. He stood menacingly in the doorway while I handed out the goods. "Is he real?" "Wow, he's really tall!" "Oh man, it's Zorro!" And then of course, "Who are you?" "Why, Mrs. Zorro, of course!" No one is going to know that her name was Elena. Including me.
In between kids, we watched Shaun of the Dead. Excellent Halloween movie. Much better than The Blob.