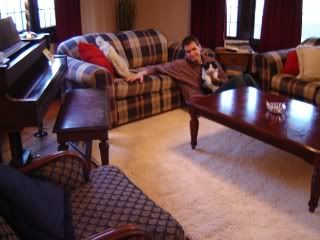 I have been searching for the perfect living room rug for some time now. Our original goal was to use a remnant that we had been given for free and have the edges bound. We didn't want to carpet the whole room as we have hardwood and love it, but I also love to be able to sit on the living room floor and watch a movie, play a game, etc.
The remnant idea would have worked but we don't have a large truck to haul the thing to the carpet place and back and we just never got around to doing it. So I had been looking around at every store that sells carpets. I loved the shag at Pottery Barn, but it was just so expensive. I started saving anyway as that ended up seeming like it was the best rug for our money.
Then we walked into Home Depot. I forget how much I love this store. They had a shag in the color and texture that we wanted for less than a quarter of the PB one! Plus they would have it delivered for free! I ordered it straight-away and then also proceeded to order a skooshy rug pad from PB.
Amazingly they were both delivered on the same day! I arrived home from yesterday to find that not only had they both been delivered, but the delivery guys had apparently laid both pieces down and arranged our furniture over them!
Ok, so you all really need to get a cleaning lady that lives with you. She is amazing. She laid out our carpet for us and apparently yesterday was cleaning day, so the rest of the house was sparkling also! She even cleaned all of my votive holders and hurricane candle holders and put in new candles!! I wish I could keep her forever. Sigh. I will have to go back to cleaning on my own soon enough.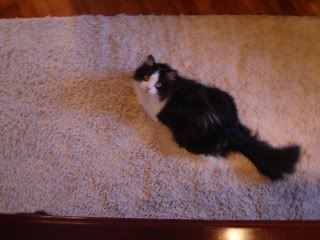 One of our cats is so insane over the rug. She seems to think it is an object to be chased and pounced upon. I tried to get a short video of it with my camera, but of course she wouldn't cooperate.
I sat on the floor all evening. Ate my dinner at the coffee table, watched tv while on the floor...It was wonderful. The rug we had before was thin and blue with a random flower border that really clashed with everything we had, but I kept it just to keep the floor somewhat protected. The new one is so perfect and just adds the right amount of homey-ness to the living room. I finally feel like that room is finished and I think it's the first one we started decorating!