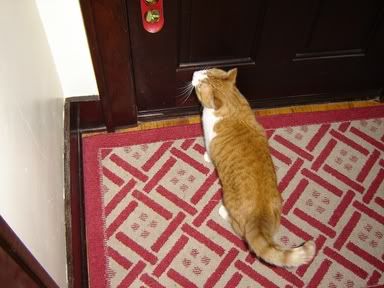 He wants to go outside. He will run to whichever outside door we are standing nearest. If we move in the general direction away from one door and towards another, he will run to that one. He is so darn cute. Back and forth, back and forth. And really it is quite annoying when one is trying to get out in the morning and has to kick the cat each time.
But it's still cold in spite of the
technicality
of it being Spring. So he goes out on the porch for about three seconds and then wants to come back in. But soon. Soon he can go out all day if he so desires. And we will leave him there to smell as many smells as he can. I should probably wash off all the tiny little nose-prints from the window. It looks a bit grimy.